Portfolio of Available Dogs, Puppies,
and Planned Litters
Young Service Prospects
Watch this page for available 1- to 2-year-old dogs suitable for service and other work.
In 2018, Chilbrook will be initiating a new program to make available more young adults suitable for service and other type of work. The dogs available will be listed on this page.
Puppy Enrichment Area
Our puppy enrichment area gets the pups used to a wide variety of things to help them take the big, wide world in stride. This also gives Debby a chance to see what the pups' individual talents are.
About the first clip of 6-week-old puppies, Debby says, "I spend hours watching the litter at this age because you can begin to see some of the drives and personalities coming out now. Watch to see who are the 'watchers,' who are the 'explorers.' "
In the second video, Debby evaluates the puppies' potential for working dogs. "As this litter grows and develops I'm beginning to see which ones I think will be the better Super Sniffer prospects. Here they are learning about new surfaces and obstacles," she says.
In the third video, the pups are now 7 weeks old. Debby has this to say: "How a puppy explores the world tells a lot about their basic personality and helps to place the right pup with the right home. A really good trainer can develop any pup to reach their full potential but it helps when you start with one suited for the job."
Continuing the
Chilbrook Bloodline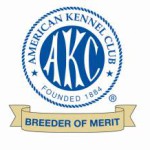 The Chilbrook bloodlines are renowned for producing versatile, intelligent, highly trainable dogs with excellent health and longevity. Chilbrook dogs have excelled as working service dogs, in the field, and in performance events. Established in 1969, the bloodline continues today with the same high standards of excellence. Puppies are available on a limited basis.
Also, we are able to make referrals when litters are available from our studs bred to other females. Please email Debby for details and availability.
Thank you for your consideration of a Chilbrook puppy!