Available Young Prospects
Continuing the Chilbrook Bloodline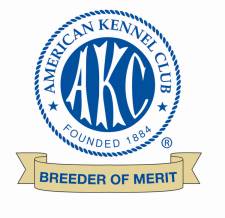 The Chilbrook bloodlines are renowned for producing versatile, intelligent, highly trainable dogs with excellent health and longevity. Chilbrook dogs have excelled as working service dogs, detector dogs, in the field, and in performance events. Established in 1969, the bloodline continues today with the same high standards of excellence. Young puppies and older dogs are available on a limited basis. All of these dogs are well socialized and have basic manners.
Also, we are able to make referrals when litters are available from our studs bred to other females. Please email Debby for details and availability.
Thank you for your consideration of a Chilbrook puppy!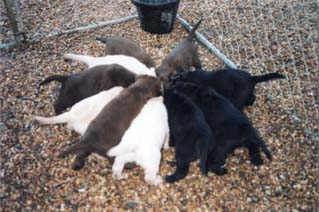 We offer the three colors of purebred Labradors: Black, Yellow, and Chocolate. Dilute colors do not exist in purebred Labradors.
Planned Litters
I am planning a wonderful chocolate litter from Sierra who will be bred to the handsome chocolate Champion Master Hunter, 
Chester
.
There are also plans to breed Gypsy to Soul. This should produce a lovely litter of blacks and yellows.Gypsy is due in season in January so these will be spring puppies.
Snickers is also going to be bred this January for an all-chocolate litter.
I will not be accepting reservations on these litters until after the breeding has occurred.
Please sign up for my puppy newsletter to learn more about the breedings and see photos of all the sires. The sign-up form is at the bottom of this page. You are able to unsubscribe at any time and we will never share your email address.
Young Prospects for Sale
Click a picture to view full-size image in a new tab or window.
Click "Pedigree" for that dog's pedigree in PDF format in a new tab or window.
Dogs Available
Color/Sex/DOB
BIO
Pedigree

Macy

SOLD

BF 11/25/2017

Macy is a compact, petite 48-pound girl that has had initial diabetes scent training. Her mother is a diabetes alert dog and her sire is Ranger. She loves people and can think of nothing better than to snuggle or go for walks with her person. She plays nicely with little dogs, puppies,  and other critters. She is socialized, crate trained, walks nicely on the leash, and loves to travel in the car. She would be ideal as an institutional dog, therapy dog, ESA, or similar job. Her outstanding pedigree makes her a good candidate for breeding as well.
Ranger x Molly


Goose

SOLD

YM 6/6/2018

This little man is already showing the promise of being a great service dog. He is unflappable, takes everything in stride, loves people, and is a great car rider. He's never had an accident in his crate and learns very quickly new routines or things you show him.
Blue x Icy


Velvet

SOLD

YF 6/6/2018

Velvet is much the same as her brother Goose. She's a confident little sweetie that will snuggle when you pick her up and follow you at heel when you put her down. With her great pedigree she has potential as a breeder but without question will be a super service dog and appears to be up to the challenge of whatever comes her way.
Blue x Icy


Jarvis

SOLD

CM December 2017

This big boy stands at 25½" at the shoulder and is perfect as a mobility support dog. He's not afraid of anything and has a very solid temperament, making him also suitable for PTSD or other ESA work. Very friendly, confident, housebroken, crate trained and has a fair amount of basic obedience, this guy is ready to go to work and learn his tasks to help people.

Jarvis
If you'd like to receive updates about upcoming litters and available dogs and puppies, please join our mailing list.
As a thank-you gift, we'll give you a free e-book, "Breeder's Tips" by Debby Kay. It's full of helpful information for owners of dogs of any age.
IMPORTANT: To complete your sign-up, watch for an email from Debby@Chilbrook.com, "Confirm your subscription." When it arrives, click on the link in the message. (You can unsubscribe at any time!)
To download the e-book, you must first complete your subscription to this email list. Once you confirm your subscription, you'll immediately be taken to a web page to download the free e-book.
If you don't see the message after an hour or so, check your junk mail folder or settings.