Puppy Enrichment Area
Our puppy enrichment area gets the pups used to a wide variety of things to help them take the big, wide world in stride. This also gives Debby a chance to see what the pups' individual talents are.
About the first clip of 6-week-old puppies, Debby says, "I spend hours watching the litter at this age because you can begin to see some of the drives and personalities coming out now. Watch to see who are the 'watchers,' who are the 'explorers.' "
In the second video, Debby evaluates the puppies' potential for working dogs. "As this litter grows and develops I'm beginning to see which ones I think will be the better Super Sniffer prospects. Here they are learning about new surfaces and obstacles," she says.
In the third video, the pups are now 7 weeks old. Debby has this to say: "How a puppy explores the world tells a lot about their basic personality and helps to place the right pup with the right home. A really good trainer can develop any pup to reach their full potential but it helps when you start with one suited for the job."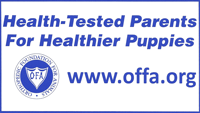 If you'd like to receive updates about upcoming litters and available dogs and puppies, please join our mailing list.
As a thank-you gift, we'll give you a free e-book, "Breeder's Tips" by Debby Kay. It's full of helpful information for owners of dogs of any age.
IMPORTANT: To complete your sign-up, watch for an email from Debby@Chilbrook.com, "Confirm your subscription." When it arrives, click on the link in the message. (You can unsubscribe at any time!)
To download the e-book, you must first complete your subscription to this email list. Once you confirm your subscription, you'll immediately be taken to a web page to download the free e-book.
If you don't see the message after an hour or so, check your junk mail folder or settings.