Chilbrook Black Ice CGC RN
"Icy"
Icy is a delightful companion when she is not working – and is a totally focused performer when she is working. She has two litter mates that are certified service dogs, one is a certified detection dog, and her other sister, Chilbrook Aleyeska CDX has placed in the top 10 all breed National obedience competitions consistently. Icy's pedigree brings together two of the Labrador world's most talented performance dogs.
Her sire is Aliho's Igloo Iggy "Iggy." His record has never been broken. He was the first all breed Best in Show Champion Master Hunter, finishing in three consecutive shows with three 5-point majors from the bred by exhibitor class. He went on to earn 60 OTCH points, with multiple perfect scores and HITs from the difficult utility B class. His owner started in field work and never finished his OTCH but Iggy earned his MH title, qualified at many Master Nationals and also qualified all age. The only other All Breed BIS champion master hunter is his son.
Her dam, Chilbrook Madeline "Maddie," was the 86th dog of any breed to title in all UKC performance events as well as being a breed champion, thus earning her the "Super Dog" designation. When Maddie retired from my breeding program, she was trained and placed as a service dog for her second career. Maddie is a half sister to my Ranger, who was first triple champion Labrador in history.
Registrations and clearances:
AKC # SR82063108
DOB: Nov. 25, 2013
Color: Black
CHIC: 151982
EIC: LR-EIC4142/4F-PI (Clear)
PRA: LR-PRA1652/5F-VPI (Normal)
OFA Elbows: LR-EL71123F24-VPI (Normal)
OFA Hips: LR-249325E81F-VPI (Excellent)
Pennhip Hips: LDI=.32, RDI=.30
D Locus: LR-DL745/41F-PI (DD Normal/Clear)
DM: LR-DM732/41F-PI (Normal)
Retinal Dysplasia/OSD: LR-RDY573/41F-PI (Normal)
SD2: Carrier
Eyes: LR-EYE20361/81F-VPI (Normal)
GR2: LR-GR2-99/81F-PI (Normal)
CNM: LR-CNM3198/81F-PI (Clear)
CT: LR-CT202/81F-PI  (Not a carrier)
CY: LR-CY334/81F-PI TYPE 1A (Clear/Normal)
HNP: LR-HNP1231/81F-PI (Clear)
HU: LR-HU243/81F-PI N/N (Normal)
MCD: LR-MCD80/81F-PI (Normal/Clear)
NAR: LR-NAR305/81F-PI (Normal/Clear)
P4: LR-P4-71/81F-PI (Clear/Normal)
PK: LR-PK221/81F-PI (Normal/Clear)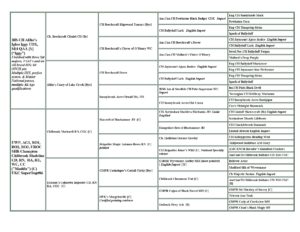 Click image to view pedigree as PDF